Our Team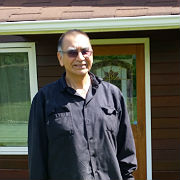 Wayne Charlie
Wayne Charlie, Pulxwuletse', is from Kwa'mutsun, where he was raised by his grandmother Celetsine Jimmy, Kwulkwulxumaat. Wayne is a longhouse speaker, a carver, and a language and culture mentor. He was a canoe puller for many years starting in 1970 as a youth on the Thundercloud, then the St. Michael, and other canoes. For many years Wayne and his older brother Arvid Charlie were a winning doubles team. He shares his knowledge on behalf of the younger coaches and pullers to help them along in their careers.
×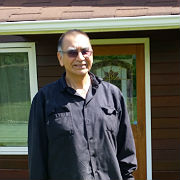 Wayne Charlie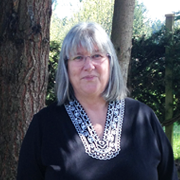 Donna Gerdts
Donna Gerdts, professor of linguistics at Simon Fraser University, has studied the Hul'q'umi'num' language for forty years, and hopes her work honors the Elders who have shared their knowledge. She wears the honorary name Sp'aqw'um'ultunaat.
×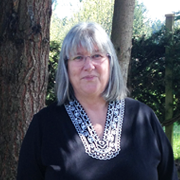 Donna Gerdts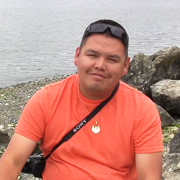 Thomas Jones
Thomas Jones Sewit is from Snuneymuxw First Nations. He is currently active in the Coast Salish cultural community as a public speaker, artist, researcher, and teacher. His message to all: "yath ch 'uw' qwa'qwul' tthun' sqwal!"
×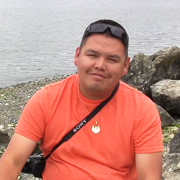 Thomas Jones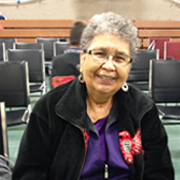 Delores Louie
Delores Louie Swustanulwut was raised speaking Hul'q'umi'num' in Quamichan. She has lived in Stz'uminus First Nations since marrying her late husband Percy Louie. She is an Elder in Residence at Vancouver Island University as well as a teacher in the SFU Hul'q'umi'num' language program. She is currently doing research on several projects, including the traditional use of plants, and she is actively engaged in producing Hul'q'umi'num' language learning materials for the future generation of teachers.
×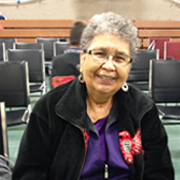 Delores Louie
Ruby Peter
Ruby Peter Sti'tum'at is from Quamichan. Growing up speaking Hul'q'umi'num', she has worked as a translator, researcher, and teacher of her language for over seventy years. Currently she is working on several research projects as well as teaching for Simon Fraser University and Cowichan Tribes. The author of many stories herself, as well as being an expert teller of traditional stories, she was very glad to mentor the Hul'q'umi'num' language teachers in producing stories.
×
Ruby Peter
George Seymour
George Wayne Seymour Squtxulenuxw is from Stz'uminus First Nation. He is a student in and teacher for SFU Hul'q'umi'num' language courses, and he teaches language and culture for Cowichan Valley School District 79, when he's not busily engaged in carving, smoking fish, and other traditional pursuits. He has been very glad to bring out some of the stories that he heard as a child so that the younger generation can enjoy and learn from them.
×
George Seymour
Darlene Sylvester
Darlene Sylvester Sunatiye' lives at Xwul'qw'selu. She has worked from many years as a school teacher for Cowichan Valley School District, but she also enjoys speaking the language with her family—with her husband, children, and grandchildren. She completed her SFU First Nations Language Proficiency Certificate in 2014, and she has helped teach the SFU language immersion courses.
×
Darlene Sylvester
Dolly Sylvester
Dolly Sylvester Hohwulenuhwtanaat is from Xwul'qw'selu. She is a Hul'q'umi'num' language teacher at Alexander School where she teaches grades K–7. She has inspired many generations of students to do their best in learning their language. She is a student in and a teacher for SFU Hul'q'umi'num' language courses.
×
Dolly Sylvester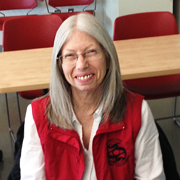 Sally Hart
Sally Hart, a teacher for Cowichan Valley School District 79, lives beside Quamichan Lake with her husband Roger. Her father is Dodie (George) Barker from Pun'eluxutth' and her mother the late Adelaide Lapp from the town of Chemainus. Sally is dedicated to her family and several grandchildren. Her on-going educational focus is the Hul'q'umi'num' language and culture, and she especially enjoys creating art for stories and legends.
×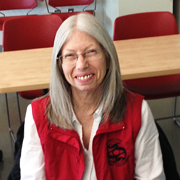 Sally Hart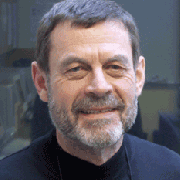 Tom Hukari
Thomas Hukari, honorarily named Sq'umq'umul'tun, linguist.
×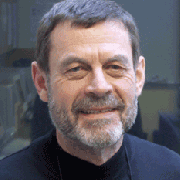 Tom Hukari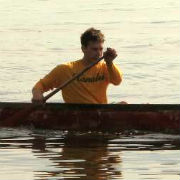 Kevin Baetscher
×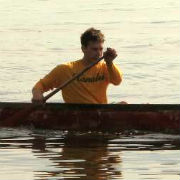 Kevin Baetscher