shkwun'el's 'handle'
shkwun'el's 'handle'
This refers to the handles on all sorts of tools, for example knives, hammers, adzes, mauls, axes.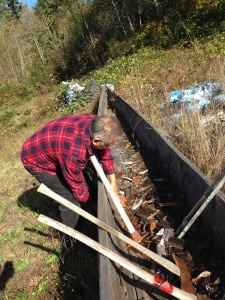 (Roy Edwards, Stz'uminus, building a canoe)
HOW IS THIS WORD FORMED?
You are probably familiar with kwunut 'take it, grab it, catch it'
nii ch kwunut tthu kapous?
'Did you take his coat?'
If you put in glottalization and a strong vowel, the word changes meaning to denote
that the action endures over a period of time:
kwun'et    'hold, possess'
kwun'etus tthu swiw'lus tthu shuptun.
'The young man had in his possession a knife.'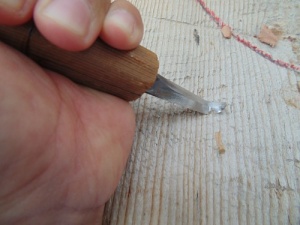 Putting the –els suffix on a word denotes an activity:
kwun'el's
'holding on, hang on'
yu kwun'el's ch 'uw ' ni'ut wulh kw'i'qun.
'Hang on when we start uphill.'
Add the sh- prefix on a word denotes an instrument used to accomplish the action:
shkwun'el's 'thing used for holding on' i.e. 'handle'
thuyt kwthu sts'esht ni' tse' shkwun'el'sth kwthu lhultun.
'Fix the stick that will be the handle of the bailer.'